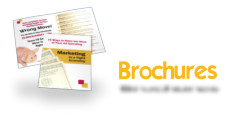 Brochures are a basic part of your company's literature.
Call Inspired 2 Design™ for affordable brochure design and printing on quality paper stock to use as a hand-out, insert, leave behind, mail or display piece.

Brochures are an integral part of your marketing materials!
A standard 8-1/2" x 11" tri-fold brochure can be designed, printed and delivered to you for under $1 per piece, whereas an oversized four-panel brochure would be just a little more.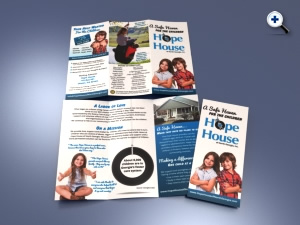 ---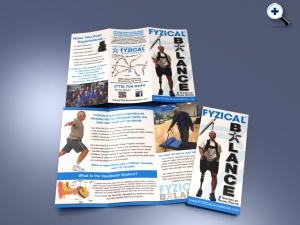 ---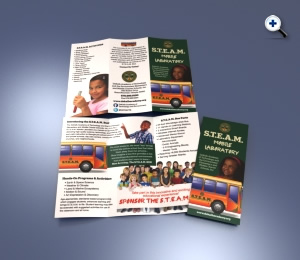 ---
This brochure was designed for Churchill's Home Improvement in Canton, GA. This design highlights the company's services, project photos, testimonials and benefits of using them for home improvement in north metro Atlanta. It's sized to fit a standard brochure holder so the trifold can be placed on display in local businesses.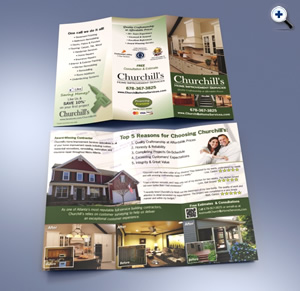 ---
This brochure was designed as part of Comprehensive Therapy Consultants rebranding campaign which also included a logo, business cards, tradeshow banners and website.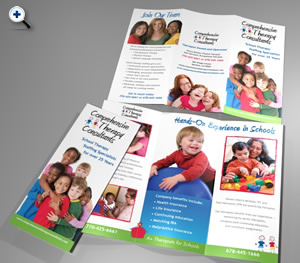 ---
This tri-fold brochure was designed for the Hollywood Hills Rehab Center in Hollywood Florida. The design update reflects their new website design and branding efforts to seamlessly integrate all of their marketing efforts. Printed on 100# coated stock.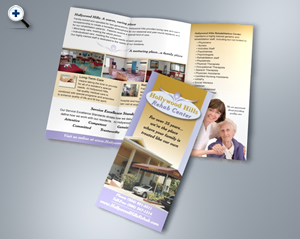 ---
Brochures make great take-away's in-store, at events, or in the mail. This brochure for Arfington Pet Resort in Fort Lauderdale, Florida, gives potential customers a good look at the fun and features of the facility. The cover photo makes you want to look inside. Printed on 80# coated stock.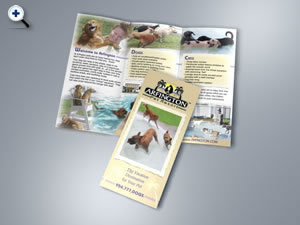 ---
HOCOA Atlanta needed a brochure that not only explains their new home repair concierge service, but one that boasts about the benefits of membership. This brochure mimics the company's color scheme, fonts and style, while providing a lot of information in an organized and easy-to-read manner. A good brochure sells! This brochure was printed on 100# coated stock.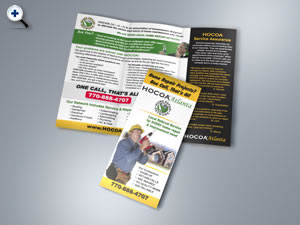 ---
This four panel double-gatefold brochure was designed and printed for Little River Animal Hospital, with a second brochure version for Peachtree Corners Animal Clinic. This brochure outlines the veterinarian's services and benefits, includes lots of photos of the staff interacting with patients, includes a customized map, and more. Although this brochure is oversized, when folded, it will fit a standard brochure holder.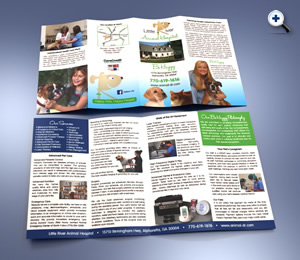 ---
While tri-fold brochures are very popular marketing tools, other shapes and folds are indeed affordable. This half-fold brochure was designed in English and Spanish to promote a bilingual program at the Hollywood Pavilion in Hollywood, Florida. The overall feel is airy and easy-to-read, yet contains enough information to motivate action on the part of the reader.
Printed on 80# coated paper stock.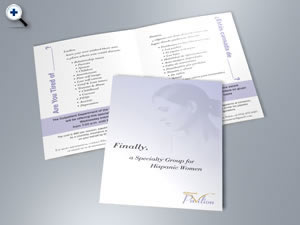 ---
A good brochure speaks to the needs of the reader. This half-fold brochure designed by and for Inspired 2 Design™ was created to be an informative and educational piece for our own clients and prospects. Small and medium businesses to come to us for all their marketing needs, because we understand the challenges entrepreneurs face. Printed on 100# paper stock.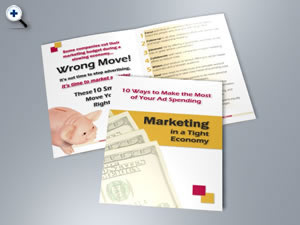 A successful Brochure starts with the right design team.

Call Inspired 2 Design™ for creative design, printing and distribution of all your promotional materials. We serve clients throughout north metro Atlanta including Cherokee, Cobb, Forsyth and North Fulton counties.
Call (770) 781-3452 or click here.